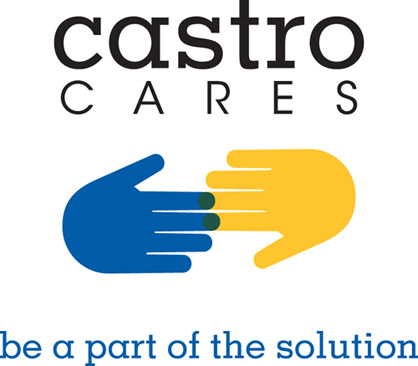 The Castro Cares Leadership Team is a unique community collaborative providing supplemental homeless support and outreach services and uniformed public safety services. These services are dedicated to the Castro, Upper Church and Upper Market Street neighborhoods, (see CBD map) for the exact footprint), and  are supplemental to the city's homeless support services and the work of the San Francisco Police Department. They are funded through a grant from the Office of Economic and Workforce Development (OEWD) and donations from residents and merchants. You can reach these services by calling 415-471-7536. Always call 911 for an emergency.
In early 2021 Castro Cares launched its new Public Safety Initiative. This innovative Castro Cares initiative has three main components that operate within the CBD geographical footprint seven days a week:
San Francisco Patrol Special Police will provide foot and vehicle patrols by armed officers in uniform, and will have direct cooperation and contact with SFPD. The Patrol Special Police will work overnight Friday and Saturday from 9 p.m.-9 a.m. and Sunday and Monday from 9 a.m.-5 p.m.
Public Safety Ambassadors will offer foot and bicycle patrols by unarmed security guards Tuesday-Saturday, 7 a.m.-3:30 p.m. Foot patrols will be a uniformed presence in the district acting to deter crime, address quality of life issues, and be an extra set of eyes and ears in the neighborhood during the day. They will also provide assurance to visitors, residents and merchants that there is a visible public safety component in the district in close communication with the SFPD, the Healthy Streets Operations Center, and our other city partners.
Downtown Streets Team (DST) empowers unhoused individuals to be part of the solution. DST Team Members participate in a volunteer work-experience program, Monday – Friday afternoons, beautifying and cleaning the district while receiving basic needs stipends to cover food, hygiene, bills, etc. Additionally, team members receive services to help them achieve full employment and housing. This service is in addition to the Castro CBD's standard cleaning services which operate across the district 7 days a week from 7 a.m. – 7:30 p.m.
Collaboration with Our Community and City Partners: The Castro CBD is working closely with our community partners (Castro Merchants, Eureka Valley Neighborhood Association, Duboce Triangle Neighborhood Association, and District 8 Residents Task Force) and City Partners (Healthy Streets Operation Center (HSOC), S.F. Police Department – Mission Station, Department of Homelessness and Supportive Housing) to ensure the City Departments understand the needs in the Castro & Upper Market and that we receive our share of city services. We also advocate with these departments to implement best practices in public safety and housing/shelter/support for the unhoused in the neighborhood.
The safety and cleaning services can be contacted by calling/texting 415-471-7536.
Patrol Special Police and Public Safety Ambassadors will be a visible uniformed presence on the street to deter crime. Both programs will use the CBD's SMART system to record their data.
Example of services provided:
Check-in with merchants
Well-being checks with the most vulnerable on our street
Enforcement of MPC No-Trespassing
Deter negative street behavior
Assistance and referral to services to those in need
Collaboration with city departments to resolve street-level issues and concerns
Hospitality services to visitors
Respond to calls for service
Collaboration with Castro CBD Clean Team
Castro Cares Leadership Team
Overseen by the Castro CBD, the Castro Cares Leadership Team is a community collaborative with representation from:
Castro Community Benefit District
Castro Community on Patrol
Castro Merchants
Duboce Triangle Neighborhood Association
Eureka Valley Neighborhood Association
Hartford Street Neighbors
Most Holy Redeemer Catholic Church
SF AIDS Foundation
SF LGBT Center
St. Francis Lutheran Church
View our Resource and Referral Guide brought to you by Castro Cares, the Castro Community Benefit District in collaboration with SFAF and Strut.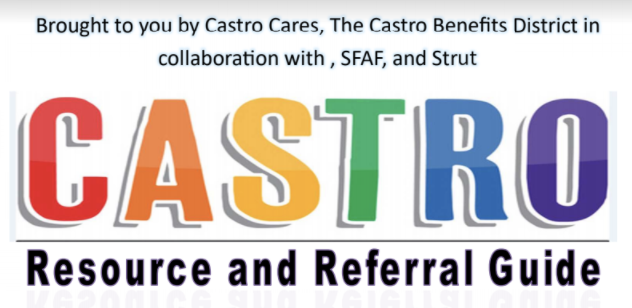 Castro Cares Patrol Special Data