The following fairs, festivals and other significant events are held in the Castro/Upper Market on an annual basis. Dates and locations can be subject to change, however, so it is best to verify info on the linked event websites before making plans.
January
San Francisco Film Noir Festival (AKA Noir City) – Celebrating bad girls, dark alleys, corrupt cops, and hardboiled heroes, the SF Film Noir Festival is hosted each January for a week at the iconic Castro Theatre. For festival schedule, see www.noircity.com
February
Bears Weekend in the Castro – Husky, hairy, gay guys commonly known as "Bears," and the "Cubs," "Otters," and "Chasers" who admire them, annually gather in the Castro neighborhood on Presidents Day weekend for dance parties, beer busts, play parties and similar fun. For more info, see www.bosf.org
March
Sisters of Perpetual Indulgence Annual Easter Party – This huge free party starts at 11 AM on Easter Sunday in Dolores Park with an Easter Egg Hunt and games for the kiddies, followed by an eye-popping Easter bonnet competition, and an outrageous Hunky Jesus contest. The Sisters, a faux order of queer nuns founded in San Francisco on Easter Sunday 1979, hold charity fundraising parties and other events throughout the year. For more info about their events, see www.thesisters.org
Berlin & Beyond Film Festival – America's leading festival of films from German speaking countries has been presented at the Castro Theatre since 1996. Starting in late September and running through early October, the festival highlights the current trends in German, Austrian and Swiss cinema as well as bringing celebrated filmmakers and movie stars to talk about their films. For more info, see www.goethe.de/ins/us/saf/prj/bby/enindex.htm
April
San Francisco International Film Festival – The grand-daddy of American film festivals, the International is a 15-day celebration of cinema featuring more than 175 films and live events, presenting 20 prestigious awards, and attracting up to 80,000 attendees. The Castro Theatre serves as one of its main venues for festival screenings and events. For more info on the festival which runs late April thru early May, see www.sffs.org/exhibition/sf-international-film-festival
Dining Out For Life Fundraiser – Donate to a great charity just by dining out! At this one-day event, held the last Thursday in April, over 100 Bay Area restaurants donate 25% of their gross sales to the SF AIDS Foundation. In the Castro/Upper Market district, more than a dozen restaurants participate, so it is easy to find food you love: seafood, French, Indian, cheeseburgers, and more. For info and to find participating restaurants, see www.dolsf.org
May
International AIDs Candlelight Memorial – Started in 1983 in San Francisco's Castro district, the historic Candlelight Memorial has become an international event that takes place every third Sunday in May. May 19th 2013, marked the 30th anniversary of the first candlelight march, which was organized by a few San Francisco gay men who wanted to draw attention to the mysterious disease that was killing their friends and lovers. The San Francisco march, traditionally one of the largest in the US, starts at Castro and Market streets at Harvey Milk Plaza at sundown. For more info, see www.candlelightmemorial.org/
CAAM Fest (formerly the San Francisco International Asian American Film Festival) – Founded in 1982, this 10-day festival is North America's largest showcase for new Asian and Asian American films and media, attracting up to 25,000 attendees. The Castro Theatre has been the site of its opening night gala at as well as other important festival screenings and events for the past several years. For more info, see www.festival.caamedia.org/30
Harvey Milk Day – May 22nd, the birthday of gay activist Harvey Milk, is observed in the Castro with speeches, a rally at Milk's former store, and similar observances. Harvey Milk Day became a California day of "special significance" in 2009, the first official day of recognition for any openly gay person in the U.S. For more info, see www.milkfoundation.org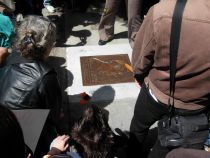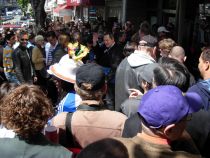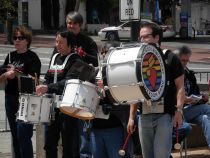 June
National Queer Arts Festival – The festival is a month-long series of queer-flavored art shows, readings, performances, and speaker's panels. Started in 1997, the festival stages performances at more than a dozen venues throughout the city, including Castro/Upper Market locations such as the SF LGBT Community Center, the GLBT Museum and Dolores Park. For festival information, see www.qcc2.org/national-queer-arts-festival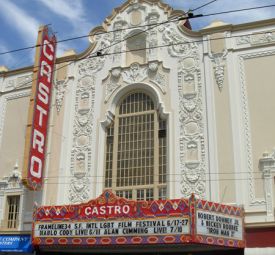 San Francisco International LGBT Film Festival (AKA Frameline) – The Castro Theatre serves as the main venue for 11 days of LGBT films from around the world. Founded in 1977, it is the oldest and largest queer film festival in the world, attracting over 60,000 attendees. For the June festival schedule, see www.frameline.org
San Francisco's LGBT Pride Week – The last weekend in June is San Francisco's LGBT Pride event, the largest LGBT event in the U.S. In the week leading up to Pride weekend, the Castro/Upper Market area is filled with celebrants, thronging the bars and restaurants and attending LGBT events (the arts festival, film festival, etc.). The official Pride Celebration (music, speeches, dancing, booths, food, etc.) is held on both Saturday and Sunday in S.F.'s Civic Center, and the colorful Pride Parade up Market Street is held on Sunday, with as many as 500,000 spectators lining the parade route. For more information, see www.sfpride.org.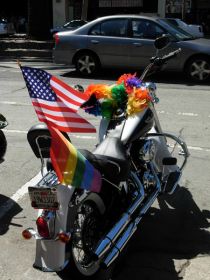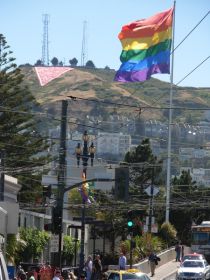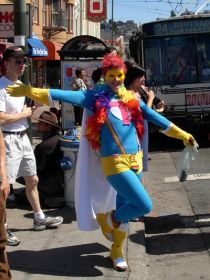 Trans March – The most recent addition to SF's Pride marches, the Trans March is held on Friday evening of Gay Pride Weekend. The march, which is open to all transsexual and gender-variant people (ftm, mtf, crossdressers, drag queens and kings, and more) starts and ends in Dolores Park, following a circular route up Market and back through the Castro. Before the march, a rally is held at the park featuring Tran's community entertainers and speakers. For more information, see www.transmarch.org
Pink Triangle Installation: Since 1996, a huge pink triangle made of canvas has been installed on Saturday morning each Gay Pride Weekend on a Twin Peaks hillside by a volunteer group, Friends of the Pink Triangle. Overlooking the Castro district and almost 20 feet across in size, the hot pink triangle can be seen up to 20 miles away. It serves as a reminder of the 15,000 gay and lesbian victims of the Nazi death-camps. For more info on the triangle or to help with installation, see www.thepinktriangle.com
The Dyke March – On the eve of the Gay Pride Parade, thousands of lesbians raucously take to the streets of the Castro, whooping and cheering. Since the first march in 1992, this has been a grassroots, grrrls-in-the-streets event, with no corporate sponsors, no politicians on floats, and no men. Men are specifically asked to stay on the sidelines, cheering the dykes on. The main event starts at 5 pm at Dolores Park (18th and Dolores streets), where a rally is held, followed by the 6 pm march. Details are available at www.dykemarch.com.
July
San Francisco Jewish Film Festival – This influential three week film festival, the largest and oldest Jewish film festival in the world, has been providing a showcase for Jewish films for over 30 years. The films are shown to over 30,000 viewers at a variety of Bay Area venues, including the Castro Theatre. For a festival schedule, see www.sfjff.org
San Francisco Silent Film Festival – The Castro Theatre, originally built in 1922 to show silent films, is the home of the annual SF Silent Film Festival, described by film critic Leonard Maltin as "in a class by itself." Held each July over a long weekend, the world's largest silent film festival shows masterpieces, important international films, and lesser-known gems on the Castro's big screen with live musical accompaniment. For festival schedule and info, see www.silentfilm.org
September
Architecture and The City Festival – For the entire month of September, the SF chapter of the American Institute for Architects presents the nation's largest architectural festival, showcasing the city's exceptional buildings and innovative architectural and design talent through tours, workshops, exhibits, and more. To find a schedule, including festival events in or near the Castro/Upper Market, visit the website www.archandcity.org
Leather Week – The leather community is out celebrating in the South of Market (SOMA) neighborhood, on Polk Street, and throughout the Castro during the week leading up to the Folsom Street Fair, held annually on the last Sunday in September. Parties, dances, fetish shows, and workshops are held in venues throughout the city during Leather Week, climaxing with the Folsom Street Fair, which attracts up to 400,000 leather-clad (and unclad) celebrants and gawkers. Warning: These events are not appropriate for children. For Leather Week events and info, see www.folsomstreetevents.org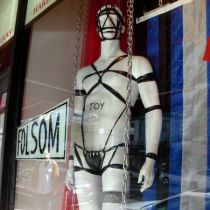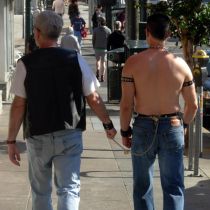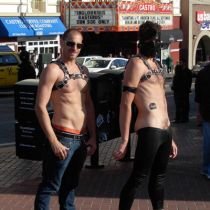 October
Castro Street Fair – Held the first Sunday in October, the Castro Street Fair was founded in 1974 by gay activist Harvey Milk to celebrate the vibrant Castro neighborhood. Vendors, artists, and neighborhood groups set up booths at Castro and Market and the surrounding streets, with a portion of the fair's proceeds going to local charities. Food, music, live entertainment, drag queens, and dancing are part of the 11 AM to 6 PM community celebration. For more info, visit www.castrostreetfair.org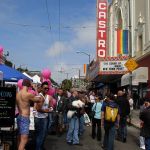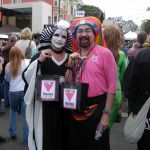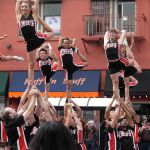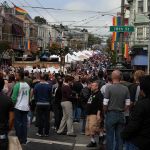 Litquake Festival – San Francisco's annual 9-day literary festival is held in early October each year and features events such as cultural strolls, breakfasts with authors, lectures and readings, book signings, and pub crawls at interesting venues throughout the city. For more info and a schedule, visit www.litquake.org
Arab Film Festival – Founded in 1996 to promote American understanding of Arab culture, this festival starts with 4-days of films at SF's Castro Theatre then moves on to show films in Berkeley, San Jose and Los Angeles. More info and ticketing at www.arabfilmfestival.org
November
Harvey Milk and George Moscone Memorial Candlelight March and Vigil – Held on November 27, the anniversary of the 1978 murders of SF Supervisor and activist Harvey Milk and Mayor George Moscone, this event commemorates their deaths. The gathering starts around 6 PM (or sunset) at Harvey Milk Plaza (Castro and Market) and includes speeches and remembrances, followed by a candlelight march through the Castro neighborhood.
Castro Annual Holiday Tree Lighting Ceremony – On the first Monday after Thanksgiving, the Castro's merchant association (MUMC) kicks off the Xmas season with a tree lighting ceremony that typically includes Santa, elves, live music and other holiday fun. The 25 foot tall evergreen is erected in the small plaza in front of the Bank of America at Castro and 18 Streets. For more info, see www.castromerchants.com
San Francisco International South Asian Film Festival – This newbie film festival, founded in 2010, is already garnering kudos from the critics for offering the best in South Asian film. The Castro Theatre serves as one of the main venues of during this weeklong mid-September celebration of everything from Bollywood glitter to cutting edge flicks. For more info, see www.thirdi.org
December
World AIDS Day Commemoration – Join members of the community to commemorate World AIDS Day on December 1st by writing the names of people lost to AIDS in chalk on the sidewalk of Castro Street. Dubbed "Project Inscribe, this local event, observed annually on December 1, was created by longtime HIV survivor, George Kelly. For more info, see the World AIDS Day facebook page.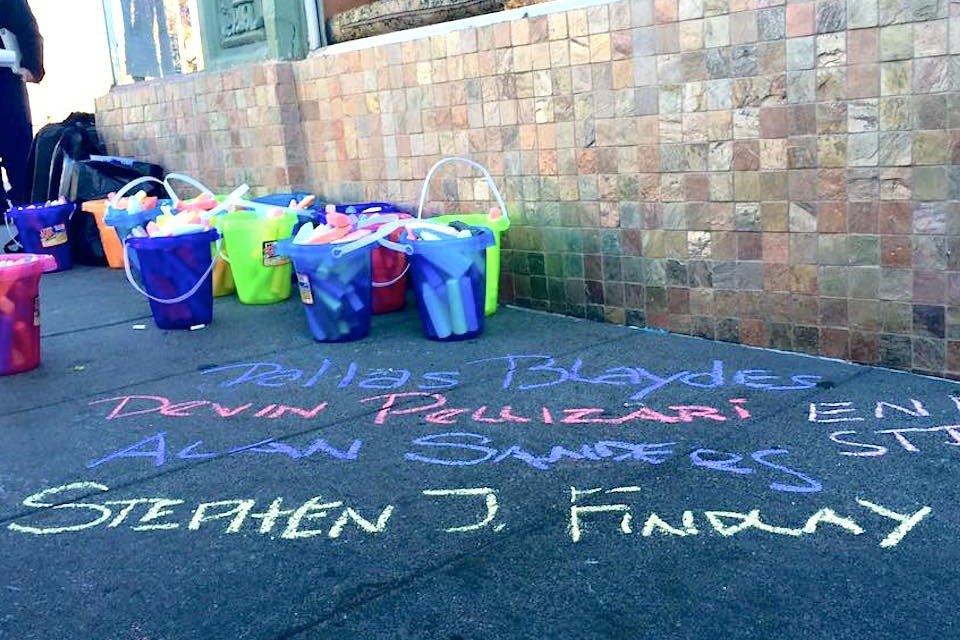 SantaCon (AKA Santarchy) – On the second Saturday in December, Santa leaves the North Pole to go on a day-long pub crawl throughout San Francisco. You'll see hundreds of male and female Santas, parading up Market Street in their red suits, rollicking in the Castro, staging flash mobs at SF landmarks, and more. To join the fun, put on a Santa suit (not just the hat) and hit the streets. Warning: The drinking starts early so some SantaCon events may not be appropriate for kids. For more info, check out www.santacon.info

San Francisco Gay Men's Chorus Santa Concert at the Castro Theatre – Since 1989, the S.F. Gay Men's Chorus has performed their popular Christmas Eve holiday concert to sell-out crowds. The 250 man chorus typically gives three Dec. 24th performances: 5 PM, 7 PM and 9 PM. For tickets or more information, see www.sfgmc.org