Vibrant and eclectic, the Castro/Upper Market neighborhood is an internationally known symbol of gay freedom, a top tourist destination full of stylish shops and popular entertainment spots, and a thriving residential area that thousands of San Franciscans call home.
Its streets are filled with lovingly restored Victorian homes, rainbow pride flags, shops offering one-of-a-kind merchandise, heritage streetcars, lively bars and restaurants, and numerous gay-borhood landmarks including Harvey Milk Plaza, the Castro Theatre, Pink Triangle Park and Memorial, and the large SF Lesbian Gay Bisexual Transgender Community Center.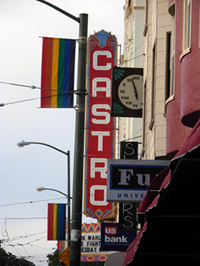 The Castro District, better known as The Castro, is a neighborhood in San Francisco, California, which is also known as Eureka Valley.
San Francisco's gay village is most concentrated in the business district that is located on Castro Street from Market Street to 19th Street. It extends down Market Street toward Church and on both sides of the Castro neighborhood from Church Street to Eureka Street. Although the greater gay community was, and is, concentrated in the Castro many gay people live in the surrounding residential areas bordered by the Mission District, Noe Valley, Twin Peaks, and Haight-Ashbury neighborhoods. Some consider it to include Duboce Triangle and Dolores Heights which both have a strong LGBT presence.
Castro Street itself runs south through Noe Valley, crossing the 24th Street business district, and terminating a few blocks farther south as it moves toward the Glen Park neighborhood.