LGBTQ synagogue brings Hanukkah to the Castro – by David-Elijah Nahmod
Castro mulls controversial plan to install surveillance camera network – by Michael Barba
New 'community ambassadors' to begin patrolling Castro, Upper Market – by Madeleine Beck, SF Examiner
There are fewer tent encampments in SF – By Trisha Thadani and Dominic Fracassa
Smart waste receptacles installed at 5 Castro locations – by Hoodline
Castro homeless program sees results – By Matthew S. Bajko
Walking the Christmas Beat with Castro Cares – By Davia-Elijah Nahmod, Hoodline, December 26, 2015
Elementary Students write name for chalk AIDS memorial – By KTVU, December 1, 2015
Andrea Aiello works to build Castro/Upper Market Neighborhood Identity– By Alisa Scerrato, November 27, 2015
San Francisco is changing the face of AIDS treatment around the world – By Donal McNeil Jr., October 5, 2015
S.F. area's LGBT population tops survey; San Jose near bottom – By Hamed Aleaziz and Steve Rubenstein, Saturday, March 21, 2015
S.F.'s newly made-over Castro is ready for its close-up – by Michael Cabanatuan, Oct. 30, 2014
Castro Street Improvement Project Halloween is new deadline for Castro Street project – By Matthew S. Bajko, Bay Area Reporter | October, 2, 2014
Announcing Castro Cares – Addressing Quality of Life in the Castro & Upper Market – Under the leadership of the Castro/Upper Market Community Benefit District, a coalition of neighborhood groups will bring additional, dedicated resources to the Castro/Upper Market from the San Francisco Department of Public Health, the San Francisco Police Department, and the Patrol Special Police. Read Press Release (PDF)
Can a coat of paint hide a chain store? Can McDonald's become Castro Hamburgers? – By Tim Redmond, SFGate | August 22, 2014
Business Briefs: Castro groups survey gay district's retailneeds – By Matthew S. Bajko, SFGate | August 14, 2014 Read article
New housing pushes Market Street partway toward proud potential – By John King, SFGate | July 20, 2014 Read an article about new development in the Castro neighborhood.
The Shop In the Castro Social Media Campaign Spread the News to 4500 People and the Campaign Has a Winner!
4,500 people viewed the Shop In the Castro social media campaign! Congratulations to Donna @downtowndonna, winner of the Castro Pride package. Thank you to the generous merchants who donated to the Castro Pride Package: Castro Coffee, Cliff's Variety, Citizen Clothing, BodySF, HRC Store, Swirl On Castro, MudPuppy's, Harvey's, and The Cove.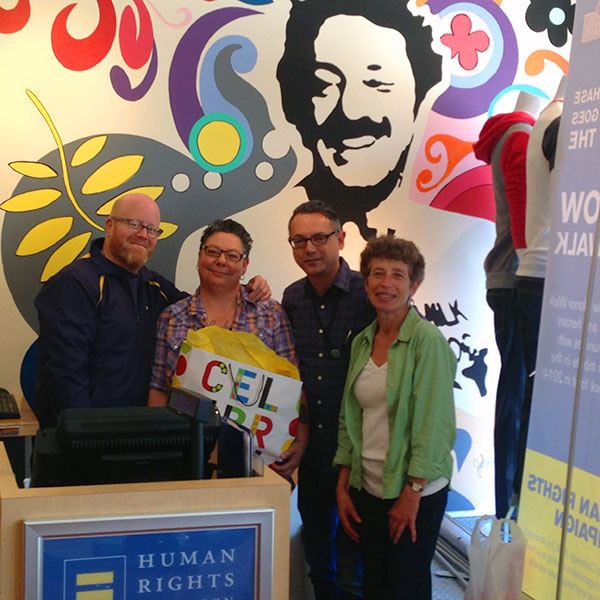 July 2017
March 2017
July 2016
March 2016