The following is a listing of community groups, non-profits, service groups and similar organizations in the Castro and Upper Market neighborhood.
Castro/Upper Market Neighborhood Improvement Groups
Castro/Eureka Valley Neighborhood Association
www.evna.org
The EVNA provides a public forum for the people who live, work, and play in the greater Eureka Valley area to discuss common issues and concerns, and help develop solutions to improve the neighborhood. They meet every other month.
Castro/Upper Market Community Benefit District
www.castrocbd.org
The mission of the Castro/Upper Market CBD is to provide services that improve the quality of life in the neighbourhood, emphasizing clean, safe, beautiful streets. It also promotes the area's economic vitality, fosters the Castro's unique district identity, and honors its diverse history. The CBD's board meets monthly.
Duboce Triangle Neighborhood Association (DTNA)
www.dtna.org
The DTNA's goal is to protect, maintain and improve neighborhood quality of life, and ensure that the Duboce Triangle continues to be San Francisco's very best neighborhood in which to live, work and play. They meet every other month.
Charity Fundraising Non-Profits
AIDS Emergency Fund (AEF)
www.aef-sf.org
Established in 1982, the fund provides critical financial assistance to those living with disabling HIV/AIDS. Monies are raised through donations and fundraising events to pay for expenses such as rent, utilities, medical expenses and funeral costs. In 1987, AEF launched the Every Penny Counts Project, collecting spare change in penny jars at SF bars and business establishments. Over the years, the coins have totaled more than $2 million. AEF penny jars are located throughout the Castro neighborhood in a variety of establishments, including Harvey's bar, PO Plus, Worn Out West, Twin Peaks Tavern, Rock Hard, The Cove, Castro Coffee, and more.
Dining Out for Life (benefiting the SFAF)
www.diningoutforlife.com
Dining Out for Life is a local fundraising initiative for HIV/AIDS service organizations throughout the US and Canada. Visit website for dates & details. Over 100 top Bay Area restaurants will donate 25% of the day's proceeds to support the free and local support services at San Francisco AIDS Foundation.
Our Town SF
www.ourtownsf.org
A promotional tool for San Francisco's LGBT nonprofit service providers, arts and athletic groups to recruit and connect with clients, donors & / volunteers.
Santa Skivvies Run
santaskivviesrun.org
The Santa Skivvies Run is a festive romp through the Castro benefiting the San Francisco AIDS Foundation. The event returns this year to its original home in the Castro on December 9th 2018.
Sisters of Perpetual Indulgence
www.thesisters.org
The Sisters of Perpetual Indulgence, an "Order of queer nuns," was founded in San Francisco at Dolores Park on Easter Sunday, 1979. Since then, the Sisters have devoted themselves to community service, ministry and outreach to those on the edges, and to promoting human rights, respect for diversity and spiritual enlightenment. They hold various fundraising events throughout the Castro and other San Francisco locations to raise monies for local charities.
World Rainbow Fund
www.rainbowfund.org
Rainbow World Fund (RWF) is an all-volunteer international humanitarian service agency based in the gay, lesbian, bisexual, transgender (LGBT) and friend's community. RWF's mission is to promote LGBT philanthropy in the area of world humanitarian relief.
Health Services and Education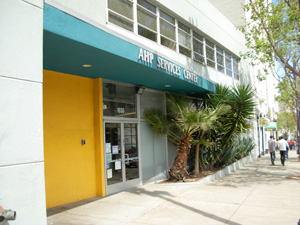 Alliance Health Project
www.ucsf-ahp.org
Founded in 1984 as the AIDS Health Project, the AHP's mission is to provide counseling and education to stop the spread of HIV, and help people with HIV face the emotional, social, and psychological challenges of living with the disease. Affiliated with UCSF medical school, Alliance services include HIV testing, support groups, and more.
Gaylesta
www.gaylesta.org
Gaylesta, the LGBT Psychotherapy Association, serves as a referral service for community members looking for an LGBT therapist. They also provide seminars and speakers on LGBTQ subjects such as coming out, homophobia and alternative families, and they hold annual fundraising events for LGBT service organizations.
HIV Testing Centers in the Castro/Upper Market:
• AHP Services Center (1930 Market Street) www.ucsf-ahp.org
• STRUT www.strutsf.org
• SF AIDS Foundation (1035 Market Street – 4th Floor) www.sfaf.org
• STOP AIDS Project www.stopaids.org
Queer Lifespace
www.queerlifespace.org
Queer LifeSpace is a nonprofit counseling agency that seeks to bring sustainable mental health and substance abuse services to the LGBTQQI community. Queer LifeSpace will provide long-term, low fee mental health and substance abuse therapy for the queer community.
STOP AIDS Project
www.stopaids.org
Founded in 1984, the mission of the STOP AIDS Project is to prevent HIV transmission among all gay, bisexual and transgender men in San Francisco through collaborative and multicultural, community- based organizing. Their services include free condoms, physician-led discussion group, seminars, treatment information, and more.
Strut SF
www.strutsf.org
Strut is the home for health and wellness in the heart of the Castro. We are a program of San Francisco AIDS Foundation and our three-fold mission is to promote the health and wellness of gay, bi & trans men, to strengthen our diverse communities, and to reduce the impact of HIV in San Francisco.
The Trevor Project
www.thetrevorproject.org
Founded in 1998 by the creators of the Academy Award winning short film TREVOR, The Trevor Project is the leading national organization providing crisis intervention and suicide prevention services to lesbian, gay, bisexual, transgender and questioning (LGBTQ) young people ages 13-24.
History and Education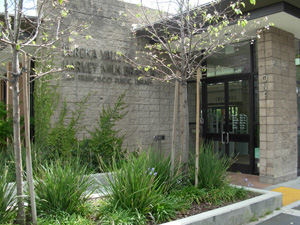 Eureka Valley/Harvey Milk Memorial Branch SF Public Library
sfpl.org
In addition to offering popular books, magazines, CDs and DVDs, this public lending library has a special collection of LGBT materials on the culture, history and experience of the LGBT community. The library also offers a variety of ongoing educational programs for children and adults.
GLBT History Museum
www.glbthistory.org
The society's GLBT History Museum is the first full scale, stand alone museum of it's kind in the United States. Celebrating 100 years of San Francisco's vast queer past through dynamic and surprising exhibitions and programs.
Hospices/End of Life Care
Coming Home Hospice
www.cpmc.org
Coming Home Hospice is a residential hospice program providing care and support for clients and their families facing terminal illness. Caregivers provide 24-hour nursing and personal care in a home-like atmosphere giving families the freedom from the worry about care and safety issues so they can focus on their loved ones.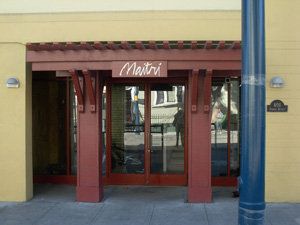 Maitri Compassionate Care
www.maitrisf.org
Since 1987, Maitri has been providing hospice and 24-hour care to men and women living with AIDS. In this 15-bed non-profit facility, skilled professionals and dedicated volunteers offer nursing and personal care as well as emotional and spiritual resources to help meet the special needs associated with HIV-related illness.
Merchants Association
Castro Merchants
www.castromerchants.com
This neighborhood business association, founded by merchants on Castro Street and upper Market Street, promotes Castro neighborhood interests, increases business opportunities for members, and facilitates communication between businesses and local government. They sponsor a number of annual neighborhood events including the Castro Holiday Tree Lighting and a sidewalk sale.
SF LOMA
www.sfloma.org
The SFLOMA was founded by a group of merchants from locally owned businesses. The currently have over 200 members representing a wide range of retail and service categories.
Political Action
Equality California
www.eqca.org
Equality California is the largest statewide LGBT advocacy group in California working to ensure full and lasting equality and acceptance for LGBT people. They have a Northern California office located in the Castro.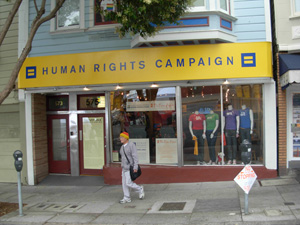 The Human Rights Campaign (HRC) is a leading civil rights organization advocating equality for LGBT Americans. They have an HRC Action Center and Store, with educational materials, t-shirts and gift items, at the site of Harvey Milk's former camera store at 575 Castro Street. In the back room of the store, The Trevor Project and the HRC run a suicide prevention call center, providing crisis intervention and suicide prevention to LGBT youth.
Recovery from Alcohol and Drugs
Alcoholics Anonymous Meetings
www.aasf.org
AA meetings are held seven days a week in the Castro/Upper Market at a wide variety of locations, including The Eureka Valley Recreation Center, The Castro Country Club, Most Holy Redeemer Church, St. Francis Lutheran Church, the Alliance Health Project and more. Check the aasf.org website for type of meeting (gay/lesbian, youth, Big Book, etc.), schedules and locations.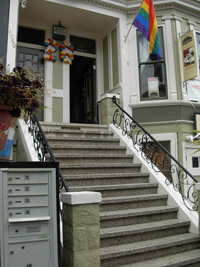 Castro County Club
www.castrocountryclub.org
The Country Club provides a clean and sober gathering place for all people and a home for the queer recovery community in the heart of the Castro. Programs include providing a venue for AA and other 12-step meetings, running an espresso bar that also provides job training and skills building for people in recovery, and hosting a wide variety of social and fellowship events including movie nights, potlucks, game nights, holiday dinners, barbeques and more.
The Stonewall Project/The Speed Project
www.stonewallsf.org
Stonewall provides drug and alcohol counseling, treatment and support services to LGBT men, and those who have sex with them. The Speed Project provides information, counseling and harm reduction services for LGBT men who use methamphetamine (AKA crystal, meth, Tina, crank, speed). Sponsored by the SF AIDS Foundation, the two projects offer a wide variety of free harm reduction programs including drop-in groups, walk-in individual counseling, alternatives to 12 step groups, Hepatitis C support groups, the tweaker.org website, syringe exchange, and more. Abstinence is not required to receive services.
Recreation and Sports
Eureka Valley Recreation Center
sfrecpark.org
This public community center offers a wide selection of recreational groups, clubs and classes for people of all ages. Indoors there is a basketball court and gym, Teen Center, auditorium, two meeting rooms, and more. Outside the center is a baseball diamond, tennis court, large enclosed dog run, and big colorful children's playground.
Safety
Castro Community on Patrol
www.castropatrol.org
Castro Community on Patrol (CCOP), founded in November 2006, is a grassroots non-profit organization dedicated to promoting safety and safety awareness in the Castro and Duboce Triangle neighborhoods. CCOP volunteers patrol the neighborhood, note and report violence and property crimes, and create a visible safety presence.
Social Services, Community Resources and More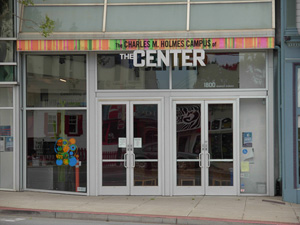 LGBT Center
www.sfcenter.org
Since opening in 2002, the LGBT Center has provided social services, community resources, fellowship, and more for lesbian, gay, bisexual and transgender individuals in San Francisco and beyond. The Center collaborates with over 70 organizations to help connect community members with services including legal assistance, career counseling, health services, and housing assistance. The Center also hosts job fairs, a computer lab, social activities, support groups, youth programs, educational workshops and much more.
Spirituality/Religion
Congregation Sha'ar Zahav
www.shaarzahav.org
A progressive Reform synagogue founded in 1977, Sha'ar Zahav welcomes LGBT Jews, heterosexual Jews, and their families and friends for worship, learning, and celebration. Social action is an important part of members' spiritual life and congregants regularly participate in programs such as Project Open Hand, Rebuilding Together, and the SF Food Bank.
Hartford Street Zen Center
www.hszc.org
Founded by Rev. Issan Dorsey in a Victorian house in the Castro district, Hartford Street Zen Center is the organization responsible for Issan-ji (One Mountain Temple), a neighborhood temple and residential practice center in the Soto Zen tradition of Shunryu Suzuki-roshi. They host morning and evening Zazen (meditation) sessions as well as Saturday speakers, monthly one-day sittings, and a variety of community events.
Most Holy Redeemer Catholic Church
www.mhr.org
Most Holy Redeemer Parish is a Christian Community in the Roman Catholic tradition. The parish offers a spiritual home to all: senior citizens and youth; single people and families; the healthy and the sick, particularly persons with HIV disease; regardless of their background, gender, race, social status, gender identity or sexual orientation.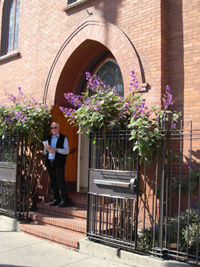 St. Francis Lutheran Church
www.st-francis-lutheran.org
St. Francis focuses on the Gospel and the Lutheran tradition of grace. The church works for justice for sexual minority persons in both church and state. They also support, financially and by involvement, community programs that care for and heal human beings, including feeding the hungry and providing space for 12-step groups.
Visitors Information
Castro Ambassadors
www.castrocbd.org/ambassador
The Ambassadors are a volunteer group that helps tourists find their way in the Castro neighborhood, providing them with maps and information about local attractions, and answering visitor's questions. They provide their services free of charge on weekends from June through October. If you are interested in becoming an Ambassador, please send your name and contact info to execdirector@castrocbd.org
Hoodline (formerly known as Castro Biscuit)
hoodline.com
Hoodline is a neighborhood news network covering the Castro.
MyCastro.com Online Guide
MyCastro.com
This website provides info about the Castro district, including listings for restaurants, dining, bars and nightlife, businesses, shopping, attractions, festivals and events in the Castro. NOTE: MyCastro.com accepts paid advertising and some of the information on the site may promote their advertisers.
Youth Services
Dimensions Clinic
www.dimensionsclinic.org
Dimensions offers low-cost medical and mental health services for LGBTQ youths (ages 12 to 25). The clinic, run by the SF Public Health Department and four gay service organizations, is the only healthcare provider solely for queer youth.
Larkin Street Youth Services
www.larkinstreetyouth.org
Larkin Street Youth Services provides youth between the ages of 12 and 24 with the help they need to rebuild their lives. Each year, more than 3,000 youth walk through their doors seeking help. The Center gives them a place they can feel safe and rebuild their self respect. They learn life and job skills and find the confidence to build a future.
The Youth Program @ The Center
www.sfcenter.org/programs/youth
The LGBT Center provides a variety of youth services and a safe place for queer youth (age 24 and younger) to get connected and empowered. The Youth Program includes a weekly Queer Youth Meal Night, a yearly Queer Youth Prom, educational workshops, a twice-weekly after school program, a creative arts program, internships, and more.
LYRIC
www.lyric.org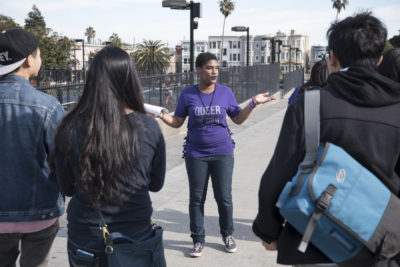 LYRIC provides a Castro district meeting place and social services for LBGTQ youth (ages 24 and younger). Their mission is to build community and inspire positive social change through education enhancement, career trainings, health promotion, and leadership development with LBGTQ youth, their families, and friends.