Are you looking to fill your commercial vacancy with a dynamic small business? Are you an aspiring entrepreneur just starting out and just dying to open a business in the Castro? Or maybe you're an established business person wanting to expand, not sure where? The Castro has some great spaces!
Castro Thrive is here to help all of you!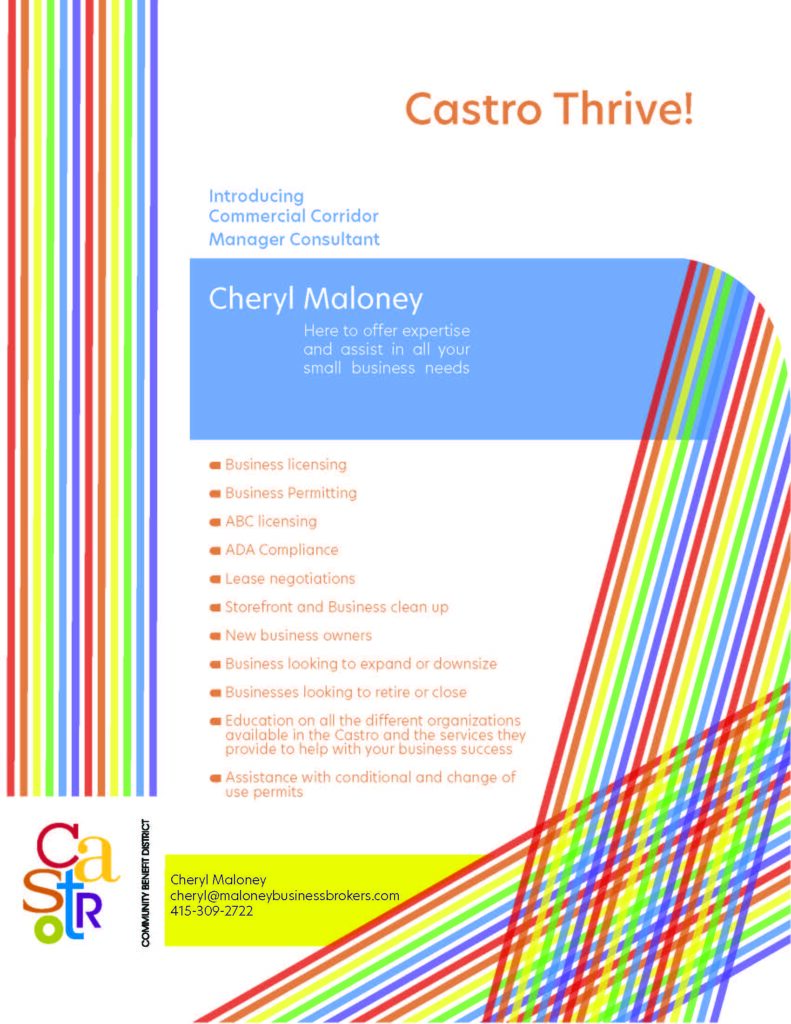 Castro Thrive is a new program funded through a grant from the San Francisco Office of Economic and Workforce Development (OEWD). Castro Thrive aims to decrease the commercial vacancies in the district and increase business retention. Our focus is on helping ground floor small businesses.
We've secured the assistance of business broker Cheryl Maloney to help us get the job done! First and foremost, Cheryl loves and knows the Castro. Cheryl is an industry-leading commercial real estate broker specializing in the sale of bars and restaurants in addition to other select businesses. She utilizes her 25 plus years of extensive industry experience and widespread knowledge coupled with a law degree and her own business ownerships to assist business owners of all shapes and sizes. She works with a variety of businesses, whether it's a small shop or a large establishment, she'll be able to help in processing the selling or buying of bars, restaurants, and everything in between.
Interested in locating in the Castro, Upper Church or Upper Market between Octavia and Castro St.? Or maybe you have a few questions about ADA compliance, a liquor license or lease negotiations?
Our grant is paying to help her help you. You can contact Cheryl directly at cheryl@maloneybusinessbrokers.com or contact the Castro CBD at andrea@castrocbd.org or 415-500-1181.
Click to view our January 2020 Vacancy Report
Retail Strategy
Concerned about the increasing commercial vacancy rate in the Castro and Upper Market, the Castro CBD, together with property owners and the City of San Francisco funded a study to better understand the issues and develop a plan to move forward. This study and the recommendations moving forward are in this Retail Strategy report.